Vampire Community News (VCN) is proud to present two very special vampire hosted gatherings that are not to be missed this 2014 Halloween Weekend in New Orleans, Louisiana.  Purchase your tickets today before they are sold out!
---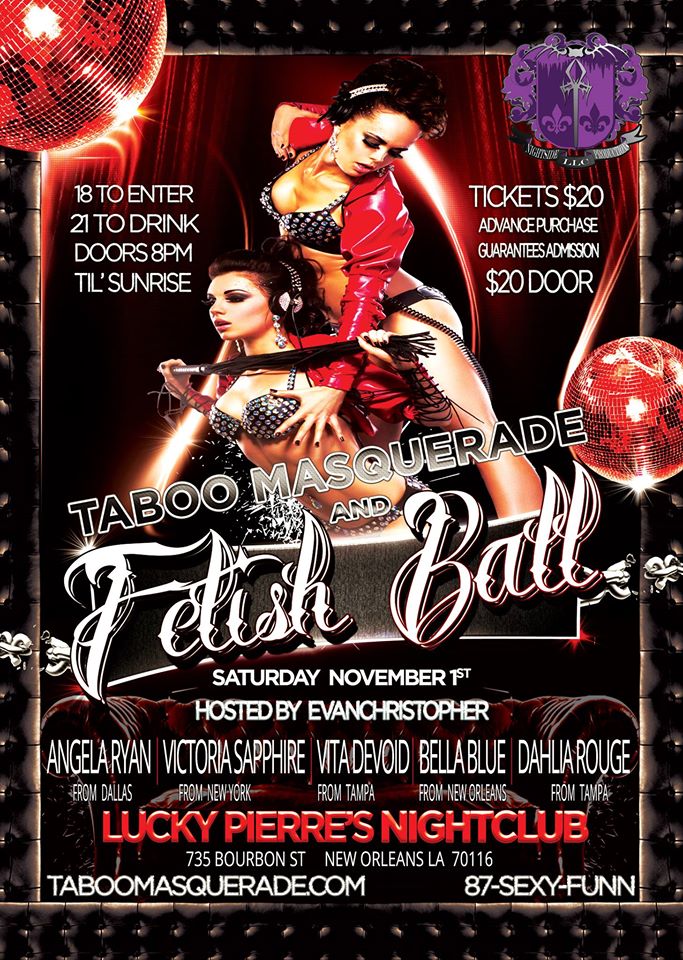 First Annual Taboo Masquerade & Fetish Ball – New Orleans
November 1, 2014, 8:00 PM CDT
Lucky Pierre's
735 Bourbon St.
New Orleans, Louisiana 70116
This Halloween Weekend Evan Christopher's NightSide Productions Crew is bringing the infamous Taboo Masquerade and Fetish Ball to New Orleans! We're going to have the nation's hottest Fetish, Burlesque and Drag performers right on Bourbon Street for a night like you've never experienced before! With doors opening at 8 PM on Saturday, November 1st, we'll keep the party going non-stop until the sun comes up! That's right, you'll have all night to explore our extensive and unique open play fetish equipment. We'll have Bondage Chairs, St Andrew Crosses, Exam Tables, Benches, Stocks and of course our infamous Naked Dessert Bar and Rubber Shadow Box!
Among the performers scheduled to appear are Angela Ryan from Dallas, Victoria Sapphire from New York, Oni from Atlanta, Dahlia Rouge from Tampa and the very best burlesque in the nation from Bella Blue and Vita DeVoid! We'll also have amazing DJ's including sets from DJ Curse Mackey, DJ Seraph, DJ Jet, and many more! With three different rooms and 6 different DJ's we'll have a variety music that will have you dancing all night long! Wear your sexiest fantasy wear and masquerade costume and explore your naughty side with a night like you've always dreamed of! If you're curious, this is the perfect chance to dip your toe in and check out the water. We'll have helpful attendants to show you everything from flogging to electrical play! Come out, dance, play or just watch the sexy action all night long! Don't miss the First Annual New Orleans Taboo Masquerade & Fetish Ball!! Tickets are only $20 and we expect to sell out so get your advance tickets and guarantee your admission!
RSVP Here:
https://www.facebook.com/events/1496895213885905/
Tickets & More Information:
http://www.taboomasquerade.com/
*     *     *     *     *
The Bad Things Ball 2014 – New Orleans
October 31, 2014, 9:00 PM CDT
Lucky Pierre's
735 Bourbon St.
New Orleans, Louisiana 70116
From its small beginnings , "Bad Things" has redefined vampire events in the gulf south through eclectic music, dance and entertainment. Now, several years later, The Bad Things Crew, with the help of Lucky Pierre's, is throwing a Halloween night ball filled with mystique and allure. (Ages 18+)
Maven, AKA "DJ Lore"
New Orleans Premier Fangsmith
Adora Lore
Vampirefreaks.com systems admin and founder of "The Vampsta Vixens" – a troupe of sexy fanged models and dancers originally started for "Bad Things", they are now their own entity! She is also a talented and passionate belly dancer.
Lord Chaz Howell
Official MC of "Bad Things". Lord Chaz is infamous in New Orleans as the oldest and most talented vampire tour guide the city has ever seen.
RSVP Here:
https://www.facebook.com/events/237212336478646/
Order Tickets Here:
http://www.badthingsnation.com/