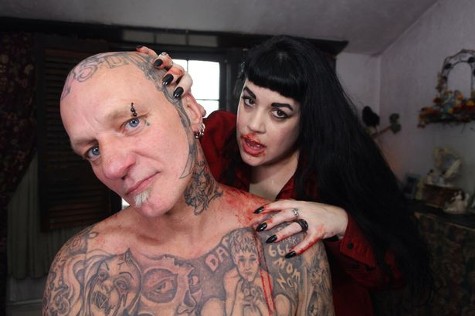 Real Life Vampire: Vampire Loving Mother Sucks Human Blood, Twilight Style (VIDEO) – Barcroft TV
http://www.youtube.com/watch?v=1ynIEMINBjc
A real life vampire MUM-OF-THREE has shockingly revealed she drinks live human BLOOD from PEOPLE – sometimes consuming nearly TWO LITRES (half a gallon) a month. Bloodthirsty real life vampire Julia Caples, 45, is a vampire fanatic who has been sucking blood from willing 'donors' for over 30 years and says she's hooked. And she reveals there is a huge underground sub-culture of other drinkers all over the world, who secretly engage in the same bizarre practices. Doctors feel a 'resurgence of blood drinking' is happening because of the recent spate of vampire series and films like Twilight. Care-worker Julia 'hunts' for willing 'donors' – fellow vampire fans willing to let Julia drink from them – at her local occult and oddities store. During drinking sessions at her Wilkes Barre, Pennsylvania home, Julia carefully cuts them with a pagan-like sterilised knife she designed herself. She believes that guzzling down the the lifeblood from others keeps her feeling young and vigorous – just like ageless vampires from cult movies.
'Vampire' Mum-Of-Two: 'I Drink Almost Two Litres Of Blood A Month From Human Donors'
http://www.mirror.co.uk/news/weird-news/vampire-mum-of-two-i-drink-two-1943342
'Vampire' Mum Who Drinks People's Blood: I Feel Stronger & Healthier
http://www.thesun.co.uk/sol/homepage/news/4962615/vampire-mum-drinks-blood-feel-stronger-and-healthier.html
Julia Caples, Real-Life Vampire, Says Drinking Blood Makes Her Feel Healthier, Stronger
http://www.huffingtonpost.com/2013/06/10/julia-caples-drinking-blood_n_3416983.html
Meet The Vampire-Obsessed Mother-Of-Two Who Drinks Half-A-Gallon Of LIVE HUMAN BLOOD A Month
http://www.dailymail.co.uk/femail/article-2339231/Meet-vampire-obsessed-mother-drinks-half-gallon-LIVE-HUMAN-BLOOD-month.html
Julia Caples, Real-Life Vampire Mom, Drinks Human Blood To Survive; What Are The Health Risks of Drinking Blood?
http://www.medicaldaily.com/articles/16372/20130610/julia-caples-real-life-vampire-drinking-blood-blood-borne-illnesses.htm
When You Think Your Mother Is A Vampire
Michael Brown for Townhall.com – June 11, 2013
http://townhall.com/columnists/michaelbrown/2013/06/11/when-you-think-your-mother-is-a-vampire-n1617474
---
Julia Caples, also known as Lady DarkRose, appeared on the Bill Cunningham Show on October 31, 2011 – Episode:  Dark, Disturbed, and Dangerous!
http://www.youtube.com/watch?v=l3eMYOwp2gI
An Interview With Julia Caples, Lady DarkRose
December 31, 2011 – The Graveyard Press
http://thegraveyardpress.wordpress.com/2011/12/31/an-interview-with-julia-caples-lady-darkrose/